Powerful. Elegant. Menu Planning.
The ultimate menu planning software for schools, CACFP, and other Child Nutrition providers. USDA-approved for K-12.
Easy-to-use software
Plan and publish your menus online with Health-e Pro's Menu Planning and Online Menus, then put them right in your customer's hands with Mobile App.
At your service
Our professional services team is ready to help you reach your goals. From data entry to administrative review preparation to recipe crediting, we've got your back.
Intuitive design
Our beautifully designed software offers nutrient analysis and menu planning, including one-click publishing to interactive menus. Color-coded menus make meal planning easy while maintaining compliance–all on one screen.
Innovative
With consistent software updates, you can be confident that the software is running optimally and has all the features you need to do your job well. Health-e Pro is cloud-based, offering anytime, anywhere access–on any device.
Ready to roll
With over 5,000 pre-loaded products and 3,000 recipes, we have everything you need to make your recipes fully compliant. Easily plan compliant menus for SBP, NSLP, CACFP, SFSP and Smart Snack standards.
Exceptional support
After the included initial training, continuing support is friendly and responsive via phone or email. Training and support for new staff is also included. An at-your-pace training course is also provided through our learning management system. 
See what others are saying
Would I recommend Health-e Pro? Absolutely. Would I recommend EZ Review? Wholeheartedly.
I kept thinking there was more to do for the production records because it was so easy!
I always recommend Health-e Pro. It's really just the best software out there.
Parents used to call in all the time asking about nutrients, but with Health-e Pro's Online Menus, they can see it anytime! It's such a great resource.
Menu Planning
Planning compliant menus has never been easier. Health-e Pro's Menu Planning has everything you need to plan amazing, compliant menus, from entering production data to creating purchase orders. Synced in the cloud, everything you need is at your fingertips.
Online Menus
With Health-e Pro's Online Menus, publish your menus to our interactive, online website and Mobile App for students, parents, and school administrators to access anywhere and on any device.
Website
Customize a Health-e Pro Website to add your menus, meal applications, and online payment options, along with other valuable nutrition resources to share with your community. The nutrition education you provide can help empower your students to develop a solid nutritional foundation.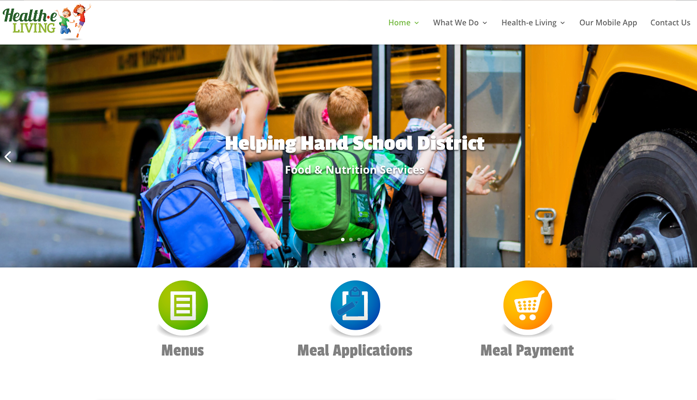 Book A Demo
Fill out the form below and a member of our team will contact you shortly to schedule a time to view a demo of our software.